Oral and
Dental Products
Tea Tree Oral and Dental Products Keep Your Mouth Fresh From Bacteria


Tea tree oral and dental products are used to help keep teeth healthy and white and also to guard against mouth infections such as Canker Sores Cold Sores.
It has a very nice mint flavor that allows you to enjoy the taste as well as a nice delicate texture that does not irritate your gums.
____________________________________________________
It Is Important To Keep Your Mouth Clean To Prevent Harmful Bacteria Build Up That Will Lead To Decay, Infection And Oral Sores. If you presently have oral infections and sores then please do yourself a favor and begin using the amazing tea tree oral products, you will begin to see incredible results.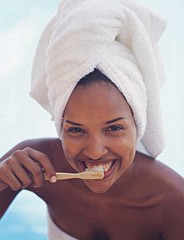 Dr. Andrew Weil, the well-known medical author and physician frequently recommendstea tree oil tooth paste and mouthwashes for a number of oral problems. Some of these include halitosis (bad breath), gum disease, and Canker Sores.
I used to get Cold Sores on a regular basis as I went through my teenage years. Whereas today it is rare that I will get a small Mouth Canker, all thanks to the 'Magical Tea Tree'.
An article in one of Australia's popular health magazines (Prevention January 1992), and written by Dr. William Mayo, stated that Tea Tree Oil was effectively used in many oral preparations like Toothpastes, Mouthwashes, Lip salves, Sore throat sprays, Lozenges, Cold sore ointment, etc, ).