Tea Tree Oil Sale

We're having a tea tree oil sale, and we're including free shipping!
We recently acquired some very high quality T40 tea tree oil. As you probably already know, this is the highest level of terpinens effectiveness. Tea Tree Oil Industry experts have determined that anything higher has no greater efficacy.
Search for T40 tea tree oil online and you'll find other companies offering this same grade of tea tree oil for a up to 8x as much.

Why are we having a tea tree oil sale?

We've always wanted to be able to offer only the highest quality tea tree oil, and we've never been able to offer it for a price that anyone can afford.
As we were saying, other companies offer this same tea tree oil for $39.99 for just one fifth of an ounce.
We are offering a full ounce for $25.00 and we'll even pay the shipping! That's just $5.00 for one fifth of an ounce!
Another way of saying that is that the other company is charging nearly $200.00 an ounce for this oil. That's why they call it their "rare quality oil".

 100% Money Back
Satisfaction Guarantee

We are so excited about this tea tree oil, and want you to experience the benefits right away! In fact, we are happy to provide you with this iron-clad 100% satisfaction guarantee.

If you are not happy with your purchase of our T40 tea tree oil, or if you find that it's not all we have said on this webpage, we will immediately refund your money. Simply return the unused portion to us and let us know how we let you down, or how you felt that the tea tree oil didn't meet your expectations.
That's it. No teeny tiny print, no exceptions. A full 100% money back satisfaction guarantee. You are pleased or you get every penny back.

We guarantee that this Tea Tree Wonders T40 tea tree oil is just as good or better than our competitors T40 tea tree oil, or we will give you your money back in full!

At this price it won't last long. This is the first, and perhaps the last tea tree oil sale like this that we will have this year.
Take a moment to look at the quality of this tea tree oil, with a recent Certificate of Analysis.
Tea Tree Wonders
Tea Tree Oil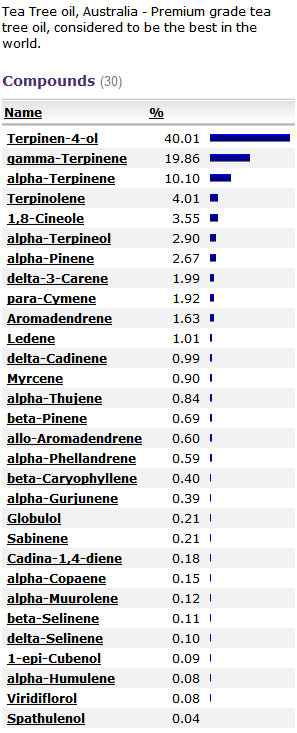 fast, free shipping too!

This Tea Tree Wonders tea tree oil is an exceptionally high quality oil. If you were to find it on the shelf, you'd probably find it rated as a T40-C3. Compare that with Melaleuca Company's 1/5 of an ounce of "T40-C3® Melaleuca Oil—rare quality Tea Tree Oil"
 For just 25.00 you'll get five times as much high quality tea tree oil and you'll get it delivered fast and free!
This Won't Last Long

As you can see, our tea tree oil sale can't last long, and our price is extremely low for an oil of this quality. It would be difficult at best to find the same quality of oil at this price anywhere.
We'll rush your order by priority shipping, so you know it will get to you fast! We'll even pay the postage, so the price includes the shipping costs to you. Wow! We know of no one else offering free shipping on single bottles of tea tree oil anywhere!
Hurry and place your order today.
Get The Tea Tree Wonders Newsletter

We'll keep you up to date with useful tips and ideas for using tea tree oil, news items, and other tea tree related news.
We'll also let you know if we have another sale like this one.
We hate SPAM too, so we'll never sell your name and email address to anyone else, and we promise not to send you any "daily email updates" like some other folks might.
Thanks for shopping with us, I know you'll enjoy the free newsletter, and you'll love the high quality tea tree oil.